Ever since I joined a discussion group for mysteries some fifteen years ago (4MysteryAddicts, once on Yahoo Groups and now on Groups.io) I've participated in the annual tradition of selecting and sharing our top ten mysteries of the year. Seeing what books others enjoyed reading is a great way of getting ideas for what to read next, which if you're addicted to mysteries is a serious question. I'll share my list here, as I've done most years, along with noting some novels and non-fiction that I also enjoyed reading. Making these lists provide a good opportunity to take stock and look back. Given what a horrid year 2020 was, the reading was surprisingly good.
crime fiction
THE NIGHT OF THE FIRE by Kjell Eriksson – Eighth in the Anna Lindell series. A shelter for asylum seekers is set on fire in a small Swedish town outside Uppsala, killing three of its residents; then a cabin in the woods belonging to a wealthy local farmer is set alight and a woman's body is found inside. Anna Lindell has left the police force to work as a cheese maker and is just beginning to get a handle on the local residents; she's able to help the Uppsala detective – an old friend – as he hits dead ends in a way that seems quite plausible. The protagonists' relationships take up some space (the detective's marriage is falling apart, Anna Lindell has a long-term relationship with someone who seems completely useless) and the author's style is a bit rambly and oblique (sadly the translation doesn't help) but I was surprised at how much I enjoyed it. I should go back and read earlier books in this series.
THE BOOK OF LAMPS AND BANNERS by Elizabeth Hand – Fourth in the Cass Neary series, of which I've only read the first. The plot is rather silly (an ancient book that everyone wants that can mess with your mind, shades of Dan Brown) and the frustratingly self-destructive photographer protagonist who never recovered from the punk 90s is a mix of smart, vulnerable, and annoying, Hand does a great job with drawing characters though some of them, including the heroine, need a nice, quiet lie-down while they detox. On the positive side, it's extremely well written, has smart observations on how right-wing extremists are able to mobilize crowds using social and anti-social media, and has some interesting things to say about visual art, which is a recurring feature of her fiction. Also, points for sheer audacious weirdness.

SNOWDRIFT by Helene Tursten – The third police procedural featuring Embla Nyström, opens with a blizzard and a nightmare. That seems almost predictable for Scandi Noir, but in the hands of a seasoned writer and a talented translator (Marlaine Delargy) we're treated to bad weather and drama, but without the unrealistic and often gory plotlines that many Nordic writers have adopted in imitation of American thrillers. Instead, we get a well-plotted, well-paced procedural with a strong protagonist who has a foot in both rural and urban Sweden. In this case a murder at a rural guesthouse may be tied to organized crime and to a moment of violence in Embla's past that led to the disappearance of a friend. The sense of rural Sweden north of Göteborg is particularly strong in this series.
THE FINISHER by Peter Lovesey – This calming, smart, interesting series is a perfect antidote to a terrible year. I enjoyed this Peter Diamond mystery which (as usual) puts the Bath setting to good use. A woman, who accidentally breaks an ugly Toby jug donated to her by a colleague for a charity fundraiser, feels so guilty when she finds out it was actually valuable she begins training for a marathon. On a run one evening she rescues a wealthy Russian woman and they become unlikely friends. Meanwhile, two undocumented immigrants escape from the traffickers who keep them barely fed while working off their "debt" (that will never be repaid) and try to evade the dreaded "Finisher" who will kill them if they're caught. And Diamond spots an ex-con who's running in the marathon bothering a woman who disappears before the race is over. All the threads are gathered up without ever breaking stride.
THE LESS DEAD by Denise Mina – You can count on Denise Mina to surprise you. This time, the surprise is that I really didn't like her protagonist. Usually I love these damaged, mouthy, wonderful women, but Margo Dunlop is just … fairly ordinary, not likeable in the way Mina's outspoken, bristly, leap-off-the-page heroines usually are. But when she meets her aunt she's introduced to the world her mother lived in – a world of being marginalized and shamed while just trying to survive poverty and neglect as sex workers. (Less dead when murdered than other "normal" people, hence the title.) These are the women who come to life, whose anger and realism make this story work. At first I was a bit disappointed, thinking this was a relatively standard story, complete with short chapters from the "mind of the killer" with a heroine I didn't much like, but as the women who steal the show spoke up I began to see what she was actually up to. It's the women – not Margo, but the women she meets – who take all the tired crime fiction tropes, turn them inside out, and have the last word.
HI FIVE by Joe Ide – the latest in an inventive series featuring a self-employed investigator who mostly solves minor mysteries for his neighbors in South Central LA, but gets sucked into bigger quests that push the envelope. Joe Ide gives noir a new palette of vibrant colors, painting the scene with wild invention and respect for those whose stories are often overlooked. In this entry, IQ is forced to take on a case by a vicious arms dealer who wants to know who killed his trusted lieutenant, but it's complicated when the only witness (and chief suspect) is a woman with five personalities. Ide combines wild imagination, tenderness, and humor with action that would be at home in Hollywood. By the time IQ solves the case, it's not clear where he will go next, but readers will want to follow. (Fortunately another will come out soon – and it's good, too.)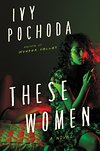 THESE WOMEN by Ivy Pochoda – A brilliant and ambitious novel set in Los Angeles, told in the voices of a chorus of women, that weaves together strands of the zeitgeist – burning hillsides, internet-fueled protests against police violence, and women's #metoo anger erupting after being too long ignored and silenced. It's an artful meditation about the relationship of art and violence and how we are bound together by slender threads of fear and love. It's a solid and engrossing mystery that has all the required elements: strong characters, a vivid sense of place, growing tension, all heightened by giving these women such memorable, indelible voices. It's the kind of crime fiction that sees in everyday violence larger crimes and demands more than simple justice.
TWO GIRLS DOWN by Louisa Luna – This was a pleasant surprise. I stumbled upon this book browsing the public library's ebook offerings, which are good to have when you can't easily browse the shelves, but not terribly extensive. I rely a lot on knowing authors from previous work or hearing good things through reviews or my 4MA informants, but this one was a "heck, I'm out of books, this will do" moments that paid off beautifully. Two girls go missing from the parking lot of a mall in a hard-scrabble Pennsylvania town. A woman bounty hunter who combines strength with wounded fragility pairs up with a private down-at-heels private investigator and it all sounds fairly paint-by-number but the writing really brings the working class characters as well as the detective team (and the P.I.'s teenaged daughter, who is sort of on the team) to life. I look forward to reading more.
THE SCHOLAR by Dervla McTiernan – The second in this Irish series moves to a university setting, where the girlfriend of sidelined and frustrated Detective Cormac Reilly finds a dead girl in a car park, the victim of a hit and run. She appears to be the brilliant successor to a pharmaceutical empire – though the police soon learn the woman carrying the ID and lab access card was someone else. What follows explores the conflicts that arise when money and celebrity influence the conduct of science. It's not perfect – I found some of the drama between the detective and his girlfriend unconvincing, a plot convenience that didn't feel true to the characters, but all in all I enjoyed it and plan to keep following this series.
THE NIGHTWORKERS by Brian Selfon – I wasn't sure whether to put this among the novels or keep in in crime fiction. This highly character-driven novel was a knockout for me. Shecky is a hardworking man who has taught his nephew everything about his business and makes a point of bringing the family – Shecky, Henry, and niece Kerasha – together for meals. He has his standards. He also has a job laundering money, and spends his days keeping track of money that comes from a variety of sources, sending it through a complex web of shell companies and offshore accounts, until it comes out clean. Henry collects the cash, using a group of runners to fan out across New York and gather cash from small Brooklyn businesses that want to evade the tax man and some larger businesses that want a front of legitimacy. This character-driven novel is about art, about friendship, about inventing a family out of spare parts, and when things begin to go wrong, about a trolley-problem dilemma where there is no good ethical solution, but Shecky has to throw the switch. A stunning narrative performance. With some crime.

novels
One-word reviews for books that are all very different, all enjoyable.
THERE THERE by Tommy Orange – stunning
THE LAGER QUEEN OF MINNESOTA by Ryan J. Stradal – touching
CUTTING FOR STONE by Abraham Verghese – epic
THE GREAT BELIEVERS by Rebecca Makkai – moving
THE LOST CHILDREN ARCHIVE by Valeria Luiselli – inquisitive
THE RESISTERS by Gish Jen – inventive
THE OVERSTORY by Richard Powers – majestic
non-fiction
A lot of these are about technology, but not all.
VOICES FROM THE VALLEY by Ben Tarnoff – interviews with labor from engineers to cooks.
UNCANNY VALLEY by Anna Wiener – memoir of a bookish woman who was part of the tech boom, observing how it grew and changed before she left.
THE TANGLED WEB WE WEAVE by James Ball – clear explanations of what the internet actually is.
MINDF*CK: CAMBRIDGE ANALYTICA AND THE PLOT TO BREAK AMERICA by Christopher Wylie – inside a dangerous company (though its power was more hype than reality) with an interesting guide who blew the whistle. And can write.
SUBPRIME ATTENTION CRISIS: ADVERTISING AND THE TIME BOMB AT THE HEART OF THE INTERNET by Tim Hwang – how digital advertising works, why it really doesn't, and what will happen when people figure that out.
THE HEARTBEAT OF WOUNDED KNEE: NATIVE AMERICA FROM 1890 TO THE PRESENT by David Treuer – such an informative and hopeful book.
THE CULT OF THE CONSTITUTION by Mary Ana Franks – why we spend too much time defending the first and second amendments and not nearly enough on the fourteenth.